At Journey Mexico, we believe that travel can and should support local communities and environmental projects. This year, as part of our conscious push towards a more sustainable approach to travel at all levels of operation, we´ve:
created a Journey Mexico sustainability committee that's been actively

researching suppliers and working with charities who share our ethos.

constantly creating new experiences with sustainability as a driving factor. See here!
committed to becoming the first B-corporation luxury travel DMC in Mexico and continue to work towards this goal.
Read on to find out about some of the impactful collaborations we´ve established so far and some of our goals for the future! 
Our Traveler Experiences
Mundo Maya Foundation
This non-profit organization works with Mayan communities in the Yucatán Peninsula to develop economic and social projects that promote as well as preserve the cultural and natural wealth of Mayan heritage.  
In support of the project, we arrange a hands-on experience with the Yaxunah and Granada Mayan communities, creating the opportunity to connect with traditional horticulture and gastronomy. Our travelers get to see how organic produce is cultivated at a local ´milpa´ (agricultural field), and sow seeds or harvest produce from the backyards of local homes, guided by the Mayan women who tend to their gardens daily to provide for their community. Guests will also learn firsthand how to cook an authentic ´cochinita pibil´ in a pre-Hispanic ´pib´ oven made in the ground, use ancestral tools to prepare the seasoning, and elaborate fresh tortillas from ´masa´ (dough) made from locally grown corn.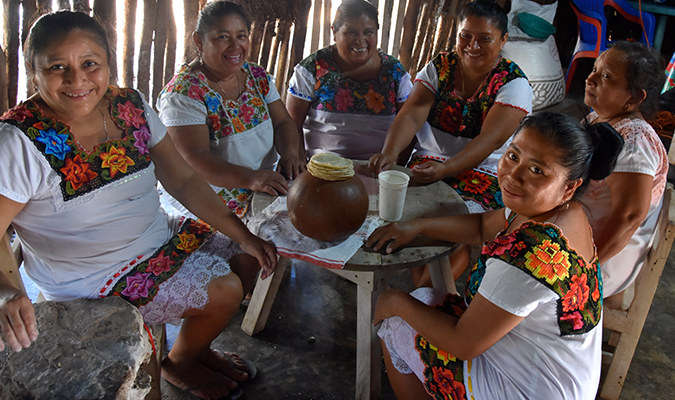 La Venta Eco-Village & the San Mateo Ozolco Community
La Venta project was created and is led by a group of young people from the San Mateo Ozolco community. After experiencing life as migrants in the U.S., they returned home to Mexico with a strong desire to preserve and share their cultural and gastronomic heritage. The name of the community and project, ´Ozolco – Ne'nemi´, means "walking on the path" in Nahuatl, referencing the community's deep connection to the forest and their sense of duty to preserve it for future generations. Through the project, the group is protecting traditions and cultural legacy while working towards reforestation, creating employment, and inspiring others to do the same. 
For our guests traveling between Puebla and Mexico City, we can take an alternative, scenic route through Paso de Cortes, the mountain path forged by Hernán Cortes on his way to confront the Aztec Emperor, Moctezuma. On the way, we´ll organize a stop to explore La Venta, find out about its sustainability projects, and enjoy a locally sourced lunch. A $20 donation is made on behalf of each of our participating travelers.  
Arca Tierra & La Escuela Campesina
In the south of Mexico City, Xochimilco is home to the city´s last surviving "chinampas", an ancient agricultural technique that dates back to the Aztecs. These small plots of land are built upfrom the canal beds, appearing to ´float´ on the water, and have provided a sustainable way to grow crops for some 2000 years, however, they´re now in danger of abandonment. 
We take our travelers to learn about the importance of this agricultural heritage system, explore the chinampas, and learn about agroecology with Arca Tierra, a local project dedicated to the rehabilitation and regeneration of the land. The initiative impulses La Escuela Campesina (school of farming) to provide local farmers with training in agroecological practices. Guests may also make a personal donation to support these valuable efforts.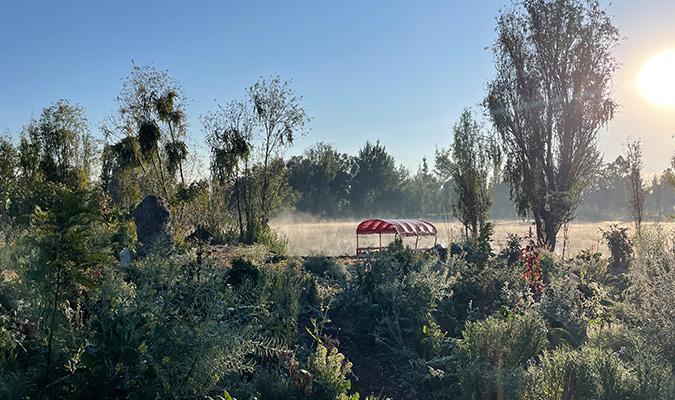 Milpa Alta
Operating since 2012, ´La Ruta de la Milpa´, is a series of agricultural fields where traditional techniques are used to cultivate staple crops like corn and the edible ´nopal´ cactus. The project has collaborated with around 60 local families, increasing production and reviving the farming lifestyle as a way to make a living. 
We take our travelers for an interactive experience of the Milpa Alta community´s sustainable farming legacy and local culinary heritage, observing how the nopal fields are tended to, savoring an organic countryside breakfast, seeing how to grind native ingredients to make mole sauce, and participating in a corn workshop with renowned chef, Jorge Córcega. Each visit includes a 20 USD donation that will directly support the Milpa Alta community project, which is currently implementing a water collection system for its crops.  
Journey Mexico Team Volunteering
Emmanuel Children´s Home Puerto Vallarta
This month, our Puerto Vallarta-based team hosted an outdoor movie evening with Emmanuel Children´s Home. We enjoyed a screening of the Pixar movie ´Wall-E´ with popcorn, soft drinks, and some tasty pastor tacos! 
The foundation welcomes children who find themselves in difficult family situations, at risk, orphaned, or living on the streets, and offers them a loving and safe home, as well as access to education. 
Los Volcanos Permaculture and Agroecology Center
Located in San Andrés Cholula, Puebla, this young project began in 2019 as an idea between friends who were concerned by the problems experienced as a result of climate change and the loss of biodiversity. Los Volcanes is founded on community work and strives to raise awareness through various workshops and courses that address the importance of natural resources and comprehensive wellbeing. In addition to developing a sustainable community based on models of permaculture and agroecoloy, the project offers trainings including crop cultivation, treatment of bees, herbalism, bio-construction, the use of family gardens and greenhouse management. 
In September 2023, the entire Journey Family will participate in sustainable activities with Los Volcanos, as part of our annual company retreat – watch this space!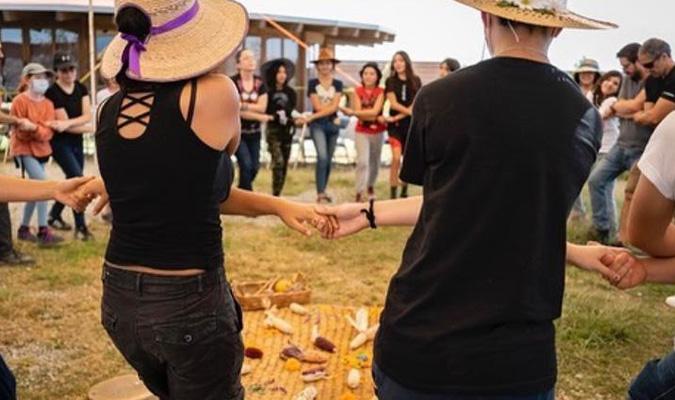 ARE YOU CURIOUS ABOUT ECO-TRAVEL IN MEXICO?
Visit our sustainability page or get in touch with one of our travel planners to learn more about the experiences mentioned above and include them in your next trip!