In light of recent reports on COVID-19's effect on travel, we would like to update you on the current situation in Mexico.
Originally posted: March 2, 2020 | Updated: Jun 02, 2022
The latest on COVID-19 in Mexico
There are no travel restrictions to or within Mexico.
As is normal for Journey Mexico, we will continually monitor the situation within the country and inform you of any changes before or during your travels.
Get up-to-date COVID-19-related Travel Updates for Mexico with information on destinations, hotels, beaches, tours, and more. Latest Covid-19-Related Travel Updates For Mexico's Main Destinations
CURRENT UPDATE: Jun 02, 2022 COVID-19 by Mexican State
There are 5,779,028 confirmed cases of coronavirus in Mexico, whose 16,633 are currently estimated active cases. We will continue to carefully monitor the situation. Find a state-by-state breakdown here:
| | |
| --- | --- |
| State | Number of positive cases |
| AGUASCALIENTES | 67,366 |
| BAJA CALIFORNIA | 135,030 |
| BAJA CALIFORNIA SUR | 104,632 |
| CAMPECHE | 34,321 |
| CHIAPAS | 39,501 |
| CHIHUAHUA | 132,194 |
| MEXICO CITY | 1,412,648 |
| COAHUILA | 145,745 |
| COLIMA | 55,164 |
| DURANGO | 68,281 |
| GUANAJUATO | 282,792 |
| GUERRERO | 98,409 |
| HIDALGO | 94,077 |
| JALISCO | 247,121 |
| STATE OF MEXICO | 574,910 |
| MICHOACAN | 94,328 |
| MORELOS | 70,891 |
| NAYARIT | 58,736 |
| NUEVO LEON | 321,031 |
| OAXACA | 120,780 |
| PUEBLA | 170,175 |
| QUERETARO | 142,725 |
| QUINTANA ROO | 92,628 |
| SAN LUIS POTOSI | 187,570 |
| SINALOA | 123,813 |
| SONORA | 164,855 |
| TABASCO | 188,979 |
| TAMAULIPAS | 147,21 |
| TLAXCALA | 43,934 |
| VERACRUZ | 180,302 |
| YUCATAN | 110,846 |
| ZACATECAS | 67,765 |
These figures are correct as of time of writing, according to information provided by the Mexican health secretary.
Mexico's COVID-19 Traffic Light Monitoring System
In an effort to control the spread of COVID-19, the Mexican federal government implemented a four-color "traffic light" monitoring system to alert residents and foreign visitors to the epidemiological risks in each of the country's 32 states and provide guidance on restrictions on certain activities.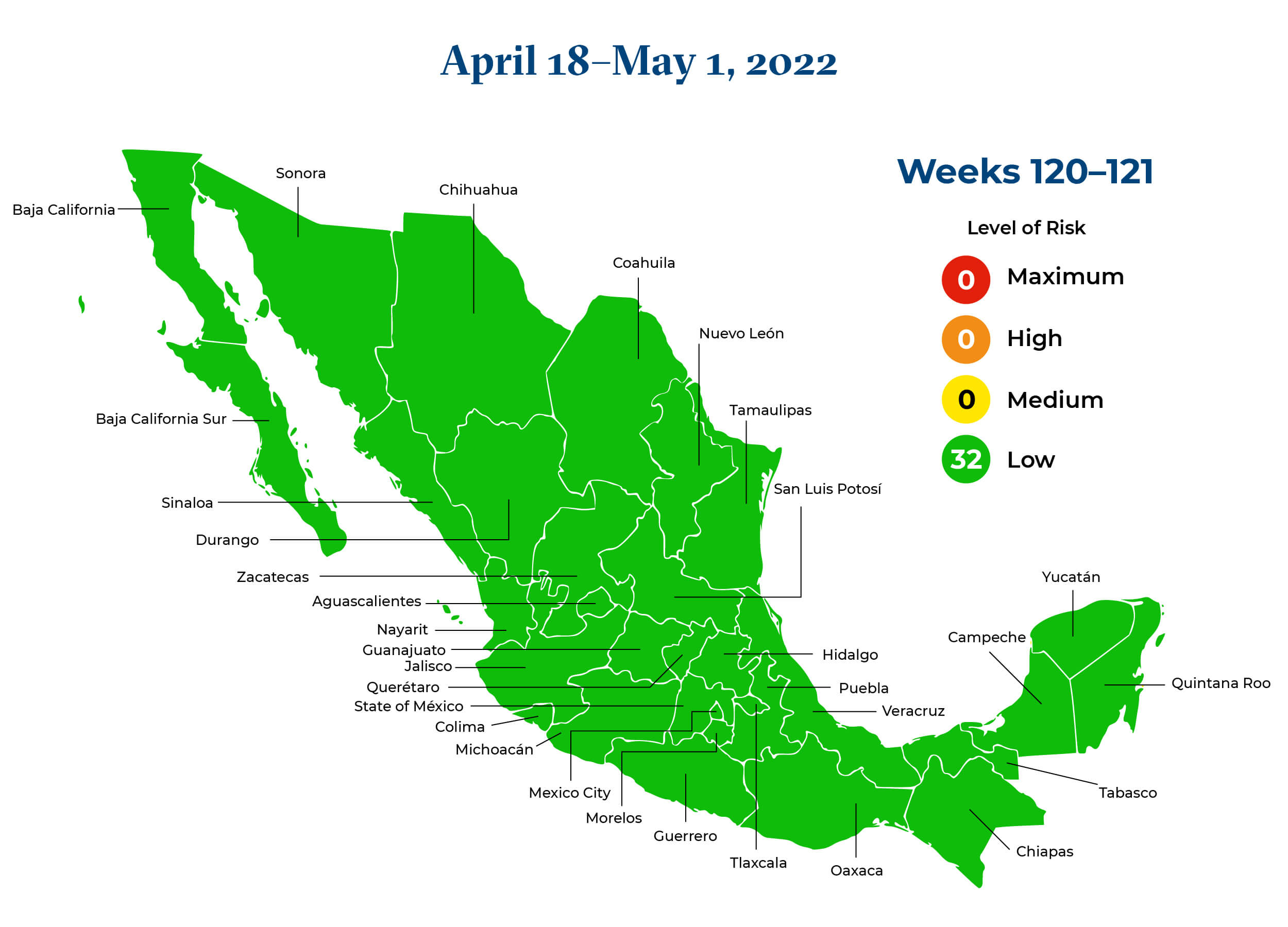 The traffic-light system is based on four colors:
RED Core economic activities are allowed, including strolling in the area surrounding of your home during the day.
ORANGE In addition to core economic activities, non-essential businesses can run with only 30% of their staff. Maximum precautionary measures must be taken, mainly with people that may be at a higher risk of a severe COVID-19 illness. Outdoor activity centers will be open, allowing only a limited capacity (number of people).
YELLOW All working activities are allowed, with care being taken of people that may be at a higher risk of a severe COVID-19 illness. Outdoor activity centers will be open allowing only a limited capacity (number of people). As is true with other traffic-light colors, these activities should be carried out using basic precautionary measures and care being taken of people that may be at a higher risk of a severe COVID-19 illness.
GREEN All activities, including schooling, are allowed.
How we're helping to ease travel concerns
We understand that some travelers are concerned about COVID-19 affecting their up-coming travel plans to Mexico. To make things as easy as possible, we are doing the following.
New Bookings Terms & Conditions*: https://www.journeymexico.com/booking-conditions
*There are no absolutes, especially amidst this pandemic. Please note that there are exceptions, and our travel planners will inform you of the actual terms prior to booking – as we always do. Most notably, villa bookings and late December travel typically have more stringent policies.
Read more: Time to Escape the Crowds? Here´s Why Mexico Makes the Perfect Hideout
Journey Mexico Tips for Minimizing COVID-19 Infection Risk
TAKE PRIVATE TRANSPORTATION
Taking private transportation could minimize the risk of catching an illness in a crowded transportation hub, such as an airport. Journey Mexico can help to organize privately chartered planes and helicopters throughout Mexico.
STAY IN PRIVATE VILLAS
If you're worried about transmission in hotels or resorts, private villas are an alternative. Many of the luxury villas in our elite portfolio offer resort-style amenities, including staff. Journey Mexico can also help to arrange additional staff if desired.
ENJOY OFF-HOURS ACCESS
Should you wish to visit major landmarks but without the crowds, Journey Mexico enjoys privileged, off-hours access to some of Mexico's most beloved landmarks. This includes trips to Chichen Itza, the National Anthropology Museum, and Tulum's archeological ruins.
More on COVID-19
What is it?
The new coronavirus, also known as COVID-19, was initially discovered in Wuhan City in the Hubei Province of China.
It is a newly discovered member of the coronavirus family, which also includes the common cold, SARS, and MERS. According to the World Health Organization, symptoms include fever and difficulty breathing.
Guidelines and preventative measures
The World Health Organization has released standard practices for reducing the chance of catching COVID-19 while traveling. Their advice includes:
Cleaning hands regularly using alcohol-based hand rub or soap and water
Coughing into a flexed elbow or tissue (immediately throwing the tissue away) and washing hands after
Distancing yourself from anyone with a fever or cough
Avoiding direct unprotected contact with live animals and surfaces with contact to live animals in areas affected by COVID-19
Avoiding eating raw or undercooked animal products.
Handling raw meat, milk, and animal organs with care by avoiding cross-contamination and following good food safety practices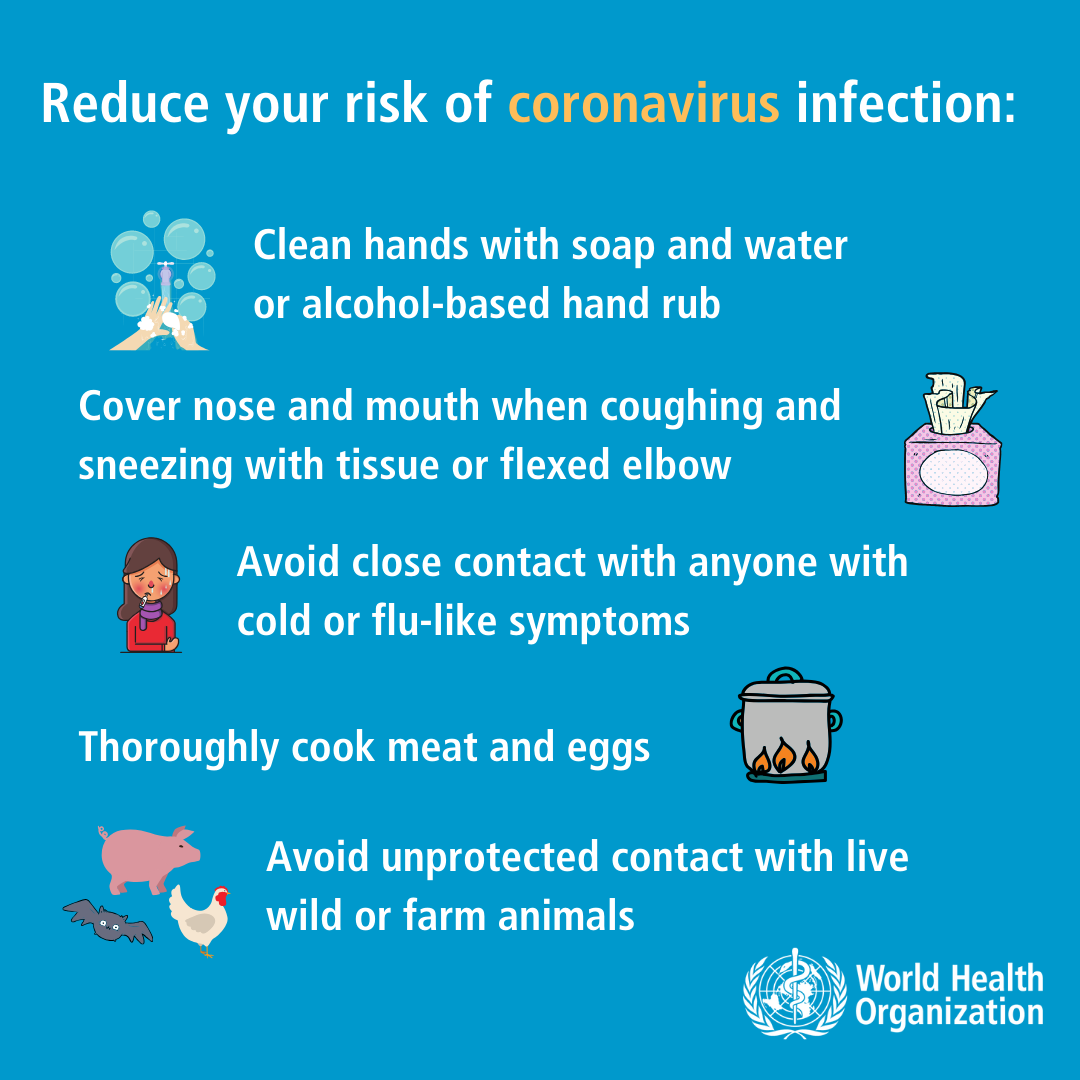 MYTHS SURROUNDING COVID-19
There has been a lot of information on the internet regarding COVID-19. All travelers must be provided with the facts, rather than speculation and rumor. Below are some myths about COVID-19 the WHO would like to quash.
MYTH: PETS CAN SPREAD COVID-19
Currently, there is no proof that pets, including cats and dogs, can spread COVID-19. However, the WHO recommends washing your hands after contact with pets to prevent common bacteria such as E.coli and salmonella from passing between pets and humans.
MYTH: COVID-19 ONLY AFFECTS OLDER PEOPLE
Everyone can be infected with COVID-19, no matter what age you are. Older people and those with pre-existing medical conditions do appear to be more vulnerable to becoming severely ill.
MYTH: ANTIBIOTICS CAN TREAT THE VIRUS
Antibiotics do not treat any virus, they only work against bacteria. Therefore, antibiotics will not prove effective.
MYTH: MEDICINES CAN PREVENT OR TREAT COVID-19
Currently, there are no medicines that prevent or treat COVID-19. However, researchers are trying to develop specific treatments.
Helpful websites on the new coronavirus
It´s important to stay up-to-date on the latest health and safety warnings no matter which country you travel to. Here is a list of helpful and trusted web pages that contain the latest advice on the new coronavirus in Mexico.
The post was first published on March 2, 2020. We will continue to update the post as more information, research, and confirmed cases are reported.