Journey Mexico invites you to take part of this amazing shared expedition, Shared Whale Shark Tour!.
Every year from June to Septemeber,  the whale sharks surrounding  Isla Mujeres and Cancun allow all the lovers of the marine world to enjoy an unforgettable experience. To swim close to the biggest fish in the world may be done in a few places such as Australia and Belize, however the area between Isla Mujeres and Isla Contoy is the most privileged because it gathers one of the largest whale shark populations.
The presence of this creature in the summer is primarily between Contoy Island and Holbox Island – although in the past years we have encountered more species towards the Caribbean Sea and Isla Mujeres – is due to the large amount of nutrients that is found in this part of the Caribbean. Accompanied by an expert, guests will receive the necessary information to understand whale shark behavior and once acquainted they will be able to get off the boat with a certified guide to swim beside them whale sharks are completely harmless to humans.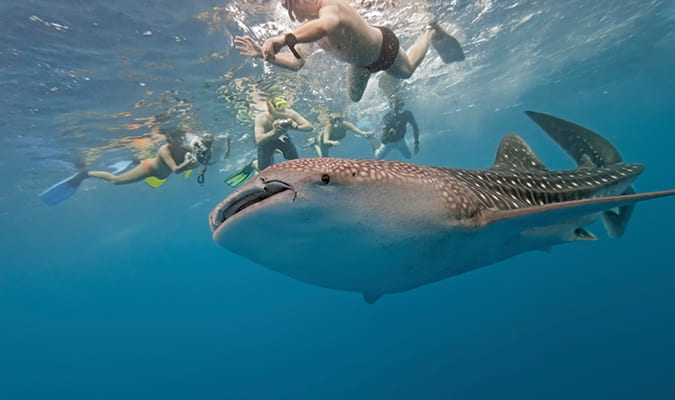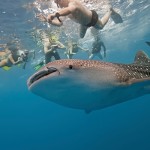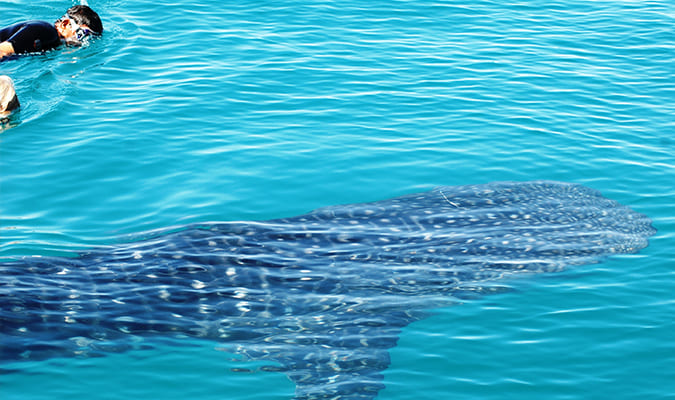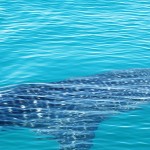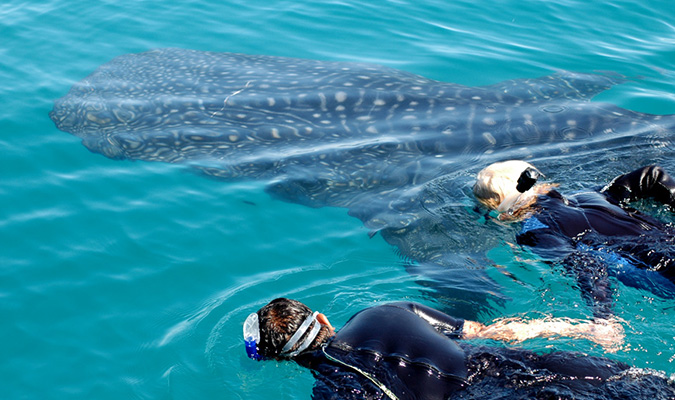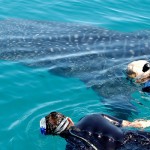 HIGHLIGHTS
Shared Roundtrip transportation
Private Bilingual Certified Whale Shark Guide – With your private guide you will be able to enter the water more often and therefore enjoy the activity much more as you will be able to enter the water 4 to 5 or even 6 times. Also you will feel less pressured as you can perform the activity at your pace.
Tentative Time Table for this Expedition:
07:00 Meet your Tour Guide and Transfer to Puerto Juarez (Playa del Carmen is approx. 60 min away)
08:00 Arrive to Puerto Juarez and time for light breakfast (coffee, tea, fruits & pastries) with briefing.
08:30 Board of your Open Fiberglass Speedboat to the Whale Shark Area. (approx. 1.5 to 2 hours).
10:00 Arrive to the Snorkeling area and start Activity (up to 2 hours)
12:00 End of Activity and return towards Isla Mujeres – on the way enjoy sandwiches and drinks.
12:45 Arrive to Isla Mujeres and free time at Playa Norte for Ceviche lunch and swimming.
13:30 Return to Puerto Juarez
13:45 Arrive to Puerto Juarez and drive back to Playa del Carmen
15:00 Back at the Hotel
IMPORTANT NOTES
– The best months to observe and snorkel with these fantastic animals are July and August.
– We will contact you upon your arrival to Cancun Airport or your Hotel to ensure that you will be doing this Expedition on the day in which the conditions are the best and also to answer any questions.
– The use of Private Guide will enhance your experience as not only will you be able to get a personal attention but also you will be able to perform the activity under your own pace. This means that you will not feel pressured by the fact that other guests will be waiting to get into the water and/or you have to wait for somebody to get ready and loose valuable time.
This expedition includes:
 Shared Roundtrip transportation
 Air – conditioned Van
 Snorkeling gear
 Life jacket
 Wetsuit
 Private Bilingual Certified Whale Shark Guide
 Entrance fees to the National Reserve of the Whale Shark
 Light Breakfast
 Bottled water and Sodas
 Beer (only after swimming)
 Lunch (Sandwich and fresh made Ceviche)
What should you bring with you?
Waterproof camera, towel, sunglasses, biodegradable suntan lotion

COST PER GUEST (based on Riviera Maya – Playa del Carmen hotel
Cost per guest for 1 guest: USD 407.00
Cost per guest for 2 guests: USD 330.00
Cost per guest for 3 guests: USD 297.00
Cost per guest for 4 guests: USD 286.00