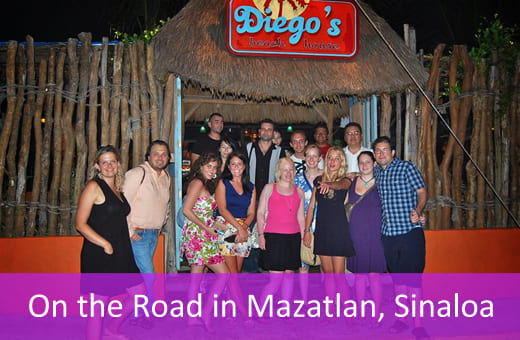 This past weekend, I was invited to a "Tweet-up" in Mazatlan (sponsored by the Mexico Tourism Board) to showcase the destination in a positive way through the power of social media. Mazatlan, on Mexico's Pacific Coast, was the only major beach destination in Mexico I've not yet had the chance to explore, so I was excited about the opportunity. For those not familiar with the concept of a Tweet-up, there are actually several variations of how these events can take place. The most common is when friends on Twitter get together in real life for some sort of event. Our Tweet-up was a little different as many of us invited to Mazatlan had not yet interacted on Twitter, so the focus of the event was to bring us all together to celebrate Mazatlan through a weekends worth of collective Tweets using the hashtag #wevisitmexico.
The weekend itinerary planned for our small yet widely diverse group of tweeters included nightly dinners at some of Mazatlan's most iconic restaurants and several adventure excursion options. I've never been much of the adventurous type while on vacation (I've zip-lined in Puerto Vallarta and snorkeled in Cozumel, but that's about as "extreme" as I've ever gotten). One of our day tour options was an ATV expedition and although I've never been particularly interested in ATVs and that almost every Mexican beach destination offers some sort of ATV tour, it was either that or another zip-line excursion. I've been several zip-line tours already (which, come to think of it, were pretty adventurous) so in the interest of trying something new, I went for the ATVs.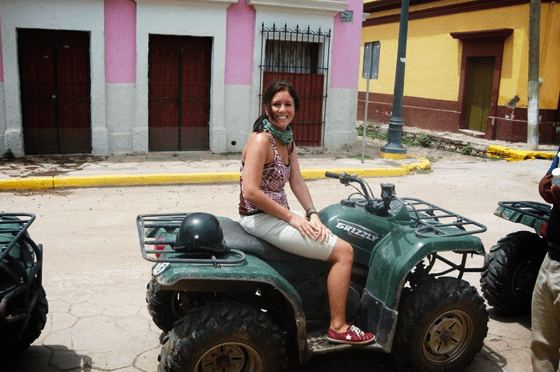 The ATV excursion was awesome! We were a small group of 4, cruising through the terrains of Mazatlan: dirt, rocks, rivers, fields, and even through the small colonial town of La Noria (where we stopped to see a leather factory and old church.) To my surprise, driving the countryside on an ATV (loud as ATVs are) brought me a sense of tranquility. It was like a nice hike through the park or bicycle ride through the mountains – but without all the dreadful exercise! As I passed by field workers who waved and smiled and an old cowboy on horseback nodding to say hello, I was able to clear my mind and appreciate the beauty of the land and the hospitality of the people around me. It was an experience I will never forget, and I regret not having taken part of it sooner. I can only imagine how amazing it would be to ATV through the sandy desert of Baja California Sur or through the Sierra Madre Mountains on the Pacific Coast. The ATV tour definitely left me with a new desire to try more "adventure-like" opportunities as the arise.
The day after ATVing, we took a private yacht to Deer Island, a semi-private beach filled with various water-activities. Again, things like fishing, snorkeling, jet-skiing are all activities I usually dodge; however, the ATV tour definitely left me with a new-found desire to try more "adventure-like" opportunities as the arise, so I both literally and figuratively "dove right in." The waters of Mazatlan were beautiful and, best of all, I didn't drown or have a panic attack! It really felt great to step outside my comfort zone and let myself go.
I definitely left Mazatlan with a new level of confidence in myself, which, combined with my unending appreciation for the incredible nature of Mexico, has me aiming high for future adventures. I figure with a few more adventure excursions under my belt, I'll be ready for next year's Copper Canynon Semana Santa Trek in April, which looks both intense and amazing.
No matter how much time I spend in Mexico and no matter how many regions I visit, there's always something yet to discover. This is, without a doubt, my favorite aspect about this country. I went into this weekend not knowing much about Mazatlan and like most everyone else, all I've read about the city lately is that their cruise ships have decided to skip the city for the remainder of the year. Yet after just three days in Mazatlan, I can confidently say to anyone that it's a safe and gorgeous city of culture, of adventure, and of beautiful and warm people. When I think about our experience in Mazatlan, I'm reminded of Mexico's new slogan: "Mexico, The Place You Thought You Knew," which is especially fitting as I know there are many who have a wildly misconceived idea of not just Mazatlan, but many of the cities of Mexico that I've come to love.