General Zika (ZIKV) Information
The Zika Virus is a mosquito-borne viral infection which is transmitted by the same type of mosquito linked to dengue and chikungunya.
There have been identified cases now across four continents. It has been detected in more than 20 countries in the Americas, including the United States.
The spread of the virus may be linked to birth defects (micocephaly)  thus prompting countries to possibly advise pregnant women against going to the areas where it has been detected.
Update: There is currently no conclusive proof that the two are connected, however investigations are ongoing and this is a major concern that has brought Zika to the world's attention.
Symptoms can include: mild fever, rashes, conjunctivitis, muscle or joint pain, and general feeling of illness that  begin 2-7 days after infection. Four out of five people who are infected have no symptoms at all.
If you are not a woman of childbearing age, pregnant or trying to get pregnant, the Zika virus is unlikely to cause you any serious trouble.
ZIKV cannot be transmitted person to person or through the air, food, or water.
Update: Possible spread of the virus through blood transfusion and sexual contact have been reported.
There is no vaccine or cure for Zika.
There have been no death so far attributed to the Zika Virus. Those infected usually just need to take asprin, drink water, and get lots of rest. Severe disease requiring hospitalization is uncommon.
Update: Apirin and NSAIDs should be avoided until dengue can be ruled out. Medicine such as acetaminophen is suggested to relieve fever and pain.
The Centers for Disease Control has issued a Level 2 Travel Alert: Practice Enhanced Precautions for those traveling to affected regions.
Important Update: On November 18, 2016 the World Health Organization declared that Zika was no longer a global health emergency and should be considered a dangerous mosquito-borne virus because, like malaria or yellow fever. Read, "Zika Is No Longer a Global Emergency"
Past Zika Virus in Mexico
The first case of Zika in Mexico was reported just recently in November 2015.
Zika cases have been reported in 23 out of 32 states in Mexico.
—Update: There are now 21 reported cases for this year, including Campeche and Yucatan.
—Update: Mexico has 34 confirmed cases representing just 0.03% of the total cases reported globally. All of these cases are from Mexican nationals living in rural areas, far from popular tourist destinations.
—Update: Mexico has 65 confirmed cases, refer to the map below from the Mexico Tourism Board.
—Update: As of April 18, 239 cases have been confirmed with the majority in Oaxaca and Chiapas.
—Update: As of September 5th, 2,388 cases have been confirmed.
—Update: As of March 23, 2017, 97 cases have been reported in 2017

CURRENT UPDATE 22ND, 2017 ZIKA IN MEXICO
As of August 22, has been 805 confirmed cases of Zika across Mexico during 2017.  You can find a complete state-by-state breakdown here.
The CDC Zika Alert remains the same: Level 2, Practice Enhanced Precautions CDC/Mexico.
The mosquitoes that spread Zika usually do not live at elevations above 6,500 feet (2,000 meters) because of environmental conditions. Travelers whose itineraries are limited to areas above this elevation are at minimal risk of getting Zika from a mosquito.
Mexico has and continues to take steps to prevent the spread of the Zika virus infection through public service announcements and campaigns and preventive travel advisories and warnings. Mexico´s Epidemiological Surveillance System is fully prepared to recognize and diagnose infections by Zika virus.
There are currently no restrictions against travelers visiting Mexico*. Both the US Government and Mexican authorities have not placed a general restriction on visiting Mexico, only urged caution to prevent mosquito bites.
Guidelines and Preventative Measures
Stay informed about the ZIKV situation as it develops.
Prevent mosquito bites by covering exposed skin with sleeved shirts and long pants, and socks.
Use Environmental Protection Agency (EPA)-registered insect repellents on exposed skin and reapply as directed. Insect repellents that contain DEET, Picaridin, oil of lemon eucalyptus (OLE) or IR3535 are very effective and safe when used according to the label. If also using sunscreen, apply sunscreen first and insect repellent second
Sleep under a mosquito net to prevent bites.
There should be no restrictions on travel or trade with countries, areas and/or territories with Zika virus transmission – UNWTO/WHO
Update: The CDC advisory recommends that women who are pregnant in any trimester consider postponing travel to areas where Zika virus transmission is ongoing. If pregnant women do opt to travel to Zika affected areas, the CDC recommends to avoid mosquito bites during their trip. Specific guidance for women who are trying to become pregnant is also included in the CDC advisory.
Journey Mexico Recommends
At Journey Mexico, we take the health of our clients very seriously, but we strongly believe that the Zika virus does not pose an extraordinary threat to our travelers.
We have no known cases of Zika with any of our passengers or staff members and guides. We continue to monitor the situation specific to Mexico. At this time, there have been few reported cases overall.
We advise, as always, to travel sensibly and take precautions to avoid getting mosquito bites as they can also transmit other diseases like dengue. We are only recommending that pregnant women consider visiting Mexico at another time in accordance with CDC/WHO advice. If you're considering Mexico as a destination for future travel, we recommend purchasing travel insurance.
The mosquitoes that spread Zika usually do not live at elevations above 6,500 feet (2,000 meters) because of environmental conditions. Travelers whose itineraries are limited to areas above this elevation are at minimal risk of getting Zika from a mosquito.
*The categories shown on this map are intended as a general guideline and should not be considered to indicate absolute risk. Elevation may vary within an area to a larger extent than this map can depict. The presence of mosquitoes may change seasonally, with increasing temperatures or rainfall, and may change over time.
To view Mexico's Secretary of Health's most recent update of confirmed cases in a state-by-state assessment  click here and scroll down to 'Informacion Relevante' and click the first link "Casos Confirmados de Infección por Virus Zika" . Updated weekly.
---
---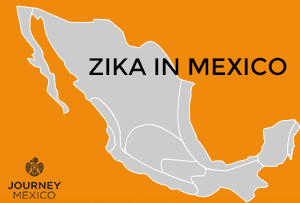 Sources & More:
Latin American Travel Association – Zika Virus Questions and Answers (Mar 2, 2016)
World Tourism Organization UNWTO – Zika Statement
Center for Disease Control and Prevention – Zika
Center for Disease Control and Prevention – Interim Guidelines for Pregnant Women During Zika Outbreak
Pan American Health Organization – Zika
Mexican Government – Zika Virus Infection in Mexico
Mexcio's Secretary of Health – Zika (Spanish)
The Guardian – Zika Virus Speading Explosively
About.com – Zika Virus in Mexico
This post was written and published on January 29, 2016. As information continues to evolve with research and  reported cases, we will add update this post as best as we can, noting any additions. We recommend the CDC website for the most up to date information.