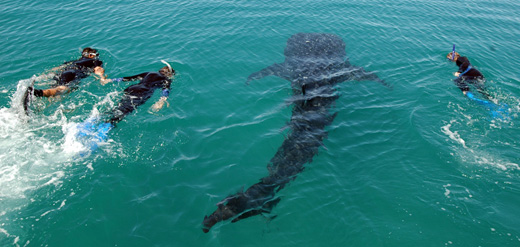 The largest of the fish species, the whale sharks of the Caribbean are beginning to arrive from their annual migration to the waters just off the coast of the Yucatan Peninsula. Each year, these mammoth sharks migrate from tropical waters around the world to certain feeding spots of which Mexico's Isla Mujeres and Isla Holbox are two favorites.
Although these giants of the fish kingdom can grow to be over 40 feet in length, they mainly feed on plankton and pose no threat to humans, which makes swimming with whale sharks in their natural habitat a must-do for every true adventurer's bucket list.
Thousands of whale sharks migrate to Mexico each year, the season starts May 15 and goes through September 15. Their distinctive patterns of pale-yellow spots and stripes make them a truly beautiful sight. In fact, they photograph so well, we've made them the star of  Our Mexico web-ad dedicated to the nature of Mexico, which can be viewed here. You can also view thew whale sharks of Mexico in action in the video below.

For the opportunity to swim with the whale sharks of Mexico, check out our  Swim With Whale Sharks and Visit Ancient Ruins Trip. One of the highlights of this adventure includes swimming and snorkeling with docile whale sharks (ranging from 10 to 65 feet in length) on a secluded island. After a few days of nature immersion, explore the ancient Mayan ruins at the world renowned Chichen Itza. Your private guide will explain the significance of this archeological site and the achievements of the Maya civilization. You will also have the chance to cool off in a beautiful sinkhole before enjoying a picturesque lunch nearby. Accommodations at the Isla Holbox (a tranquil island 3 hours from Cancun) are in a quaint eco-friendly hotel.